Dentist in Camp Hill, PA
The brief descriptions below are designed to familiarize you with our staff's training, professional credentials and work experience.
Thomas N. Gensbigler DMD, FAGD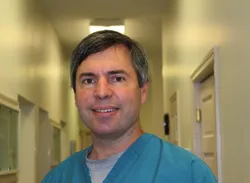 Dr. Thomas Gensbigler was born and raised right here in Hampden Township. He is the son of Dr. Joseph Gensbigler who started the practice nearly 50 years ago. He started his educational path at Cumberland Valley High School. After high school, he attended college at Bucknell University in Lewisburg, PA, and then went on to dental school at the University of Pittsburgh. At dental school, he was among the top students and was awarded an Air Force scholarship. After dental school, he joined the United States Air Force and was accepted into the Advanced Education in General Dentistry Residency program at Travis AFB in California. This residency program established a strong foundation in all aspects of dental care. In his remaining two years in the Air Force, he was a staff dentist at Hurlburt Field, Florida. At this location, he perfected his oral surgery skills as he extracted a large number of 3rd molars for the clinic. After three years, he joined his father's practice in September of 2000 as an associate and eventually became a partner at West Shore Family Dentistry. During these years of practice, he has continued his education by taking many courses and lectures. Thomas eventually earned his Fellowship In the Academy of General Dentistry, an award given to those who have earned over 500 hours of CE and pass a difficult, written test. He is also an active member in the Pennsylvania Academy of General Dentistry, the Harrisburg Area Dental Society, the Pennsylvania Dental Society, and the American Dental Society.
Dr. Gensbigler also has numerous other interests and activities. First and foremost is his family. He has a wife and three boys. Most of his free time is involved participating and helping in their many activities. He is also an avid tennis player and plays on a 4.5 USTA team during the summer. His other interests include fishing, jogging, traveling, hiking, and biking. Dr. Gensbigler is an active outdoorsman and enjoys any chance he gets to participate in these activities.
Dr. Peter A. Yelk, D.M.D
Washington and Lee University, undergraduate. University of Pittsburgh, graduate. United States Public Health Service, Indian Health Service.
Dr. Yelk is a caring professional who understands the concerns of his patients. His extensive training enables him to accurately diagnose and treat many dental pathologies. He is familiar with our local population having been raised in Central Pennsylvania & graduating from Cumberland Valley High School. Dr. Yelk went on to attend Washington & Lee University in Lexington, Virgiania where he recieved a B.S. in Biology. After College, he enrolled in graduate school at the University of Pittsburgh School of Dental Medicine. He recieved his Doctorate in 1998 with advanced training in pediatric dentistry and endodontics. Upon completion of his Doctorate, he became an officer in the United States Public Health Service achieving the rank of Lieutenant Commander. During his commission, he served with the Indian Health Service, where he developed and ran a tribal health clinic in coastal Washington state. His 18 years of experience provide him with the knowledge and confidence to successfully treat his patient's dental ailments. He enjoys hiking, golf, music and literature.
Joseph A. Gensbigler DDS
Dr. Joseph A. Gensbigler was born and raised in New Kensington, PA which is north of Pittsburgh along the Allegheny River. His mother and father were school teachers and taught Joseph a hard work ethic from an early age. He went to college at the University of Pittsburgh and was accepted into their dental school after only two years. At the dental school, he was a member of the Dentones, a singing group who performed at various school functions. Joseph graduated from dental school in 1962 and joined the United States Army where he was stationed in Frankfurt, Germany as a staff dentist. It was here he discovered his eventual wife, a dental assistant from Denmark. They have been married now for over 50 years. After two years in the Army, he enrolled in the Dewey School of Orthodontics in New York City. The skills learned at this school enabled him to practice orthodontics for nearly 40 years in his general dentistry practice. He eventually transitioned to private practice as an associate for a dentist in Lemoyne, Dr. Jack O'Donnel and then established his own office at 30 North 36th Street In the year, 1968. He has enjoyed a lifetime of general dentistry and especially the patients, treating multiple generations of the same families.
Joseph also has numerous interests and hobbies. He enjoys spending time with his wife and family. His interests include bird watching, hiking, biking, swimming, nature, gardening, and reading.
Charles E. Cho, D.M.D.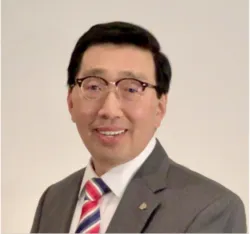 Dr. Cho has enjoyed over 35 years of practicing dentistry. He was born in Seoul, South Korea, and grew up in Elkins Park, Pennsylvania; graduating from Cheltenham High School. Dr. Cho continued his studies by attending Temple University (Philadelphia) for both his undergraduate (B.S., Chemistry) and graduate studies.
He received his Doctorate of Dental Medicine in 1985. Dr. Cho was part of the initial group of dental practitioners who implemented dental implants in Philadelphia during the late 1980s. Throughout his career, his interests have continued to be in the fields of oral surgery and implant dentistry. Dr. Cho received fellowships from the Internal Congress of Oral Implantologists and the American Society of Osseointegration in the early 1990s. Other highlights of Dr. Cho's career include 15 years of maintaining a private practice in Philadelphia, and running a 501(c)(3) non-profit medical and dental clinic for those who were underinsured and uninsured in New Jersey.
Prior to joining West Shore Family Dentistry, Dr. Cho and his family had been living in South Jersey; however, he and his wife are happy to have relocated to Central Pennsylvania to live closer to their first grandchild. When Dr. Cho is not providing personable dental care to West Shore Family Dentistry patients, he enjoys spending time with his family, serving on (international and domestic) dental missions trips, playing table tennis, and exercising.
Ronald Krajack, D.M.D.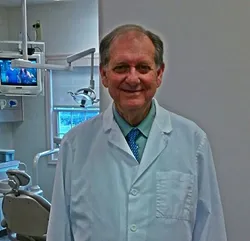 Penn State University ( undergraduate). University of Pittsburgh School of Dental Medicine ( graduate). Masters degree from Lynn University, Boca Raton, Fl in biomechanical trauma.
Dr. Yelk's assistants : Cynthia & Brandi

Thomas N. Gensbigler's Assistants

Joseph A.

Gensbigler's

Assistants

Our Office Manager - Teresa

Our Hygienists